THIS COMPANY ADVANCES
Through progressive forest management and focused research projects, our client's timber yields are among the highest in the forestry industry. Progressive forestry is part of our corporate DNA and our developed culture. Exposure to advanced knowledge and progressive operating culture can be priceless in a person's career. You can spend your career just managing a forest at many companies. But at DDFSI, you can proactively manage a GREAT resource, contributing to the needs of society, maximizing carbon sequestration, and adding to the ever-building ecosystem knowledge of our proud forestry sector. This is why we get up and go to work in the morning; to literally make a difference and provide sector leadership.
A COMMITMENT TO FORESTRY RESEARCH AND APPLIED MANAGEMENT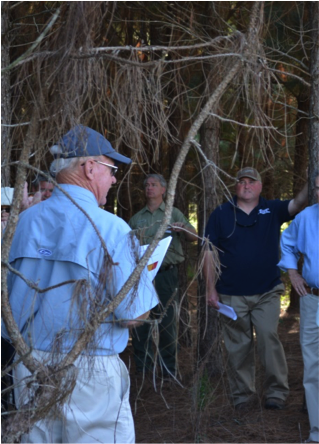 Dougherty & Dougherty Forestry Services operates its own Center of Forest Research and Applied Management (CFRAM), and is a member of multiple university-based research cooperatives. Coop membership includes The Forest Tree Improvement Cooperative (NC State University), The Forest Productivity Cooperative (Virginia Tech and NC State), and the Forest Modeling Research Cooperative (Virginia Tech). By combining research results from the cooperative with focused CFRAM research, the most advanced forest management prescriptions are made for DDFSI clients. In addition, because each employee has access to these knowledgeable bases, personal development and core growth is accelerated.
PERSONAL ADVANCEMENT OPPORTUNITIES IN AN INTEGRATED ENVIRONMENT
In our fully integrated operating environment, with hands-on forest management, cutting edge genetic and silvicultural research, and timberland sales and acquisitions, our employees have opportunities to develop in the direction in which they are best suited and most interested in. Employee development benefits the company, and the company's development benefits them. This is truly a win-win proposition and a great place to be. Advancement opportunity coupled with a system empowered by scheduled periodic employee growth reviews provides for assured performance opportunities for forward progress.
WINTER
DDFSI offers Winter Internships to deserving candidates on an annual basis. Interns will help with a variety of tasks centered around forest research and/or forest management in the SE US. Some travel is generally involved, with exposure to Piedmont, Coastal Plain, and sometimes mountain working environments. Internship position(s) are generally open from October 15 through March 15, 2015. Interns will be able to work and interact with multiple employees in the business.
EMPLOYEE BENEFITS
At DDFSI, CFRAM, and PRS we pour ourselves into our job, working hard to improve and sustainably manage a forest ecosystem that we love. When we do, we know that we all need time to recharge and that is why we have a solid paid vacation policy, with increasing vacation days for loyal company culture employees. We also know that we need to stay healthy to contribute, so we offer standard sick days for doctor's visits or healthy recoveries. We also recognize the priority of family and thus prioritize days off around the major holidays. If eligible, other important benefits include paid qualified business travel expenses such as gas, food and lodging; and company laptop issued for company purposes. All benefits are based on position and employment status.